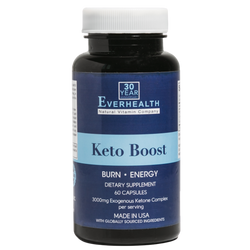 Everhealth Natural Vitamins
Keto Boost 60 capsules
A keto or ketogenic diet is a low-carb, moderate protein, higher-fat diet that can help you burn fat more effectively. Burn fat into fuel and help increase your energy level with Keto Boost.  Reach your optimal keto burn with our Keto Boost.
This formula contains 3000mg Exogenous Ketone complex that will help accelerate your Keto Diet.
FDA DISCLAIMER: These statements have not been evaluated by the Food and Drug Administration. The product is not intended to diagnose, treat, or prevent any disease.