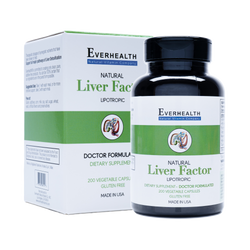 Everhealth Natural Vitamins
Liver Factor 200 vegetarian capsules - Doctor Formulated
250 milligrams of European Milk Thistle Extract. Notably' Milk Thistle Extract contains a flavonoid called Silymarin. Milk thistle can help reverse the effects of liver damage caused by excessive alcohol consumption, poor diet, and heavy metals in our water supplies

. Today, milk thistle is being used on various liver conditions including toxin-induced liver disease, alcoholic liver disease, acute and chronic viral hepatitis.

 

in addition' Silymarin may have a gentle anti-inflammatory effect. 
provides Taurine' which is an Amino Acid that may work to discourage fatty deposits in the liver.

natural ingredients like Turmeric 100mg. The main chemical in turmeric, curcumin, has anti-inflammatory properties and is rich in antioxidants. These characteristics help turmeric be the most important detox additive and super helpful in healing your liver.

Green Tea Extract 100mg. The antioxidants found in green tea (catechins such as EGCG & ECG) have also been found to assist liver function and protect the liver from the damaging effects of toxic substances such as alcohol.

natural ingredients like  Artichoke Extract 100mg because they might offer additional support for liver health.

Contains N Acetyl Cysteine 150 mg and 50mg of Alpha Lipoic Acid that helps nourish the liver

ADDITIVE FREE

GLUTEN FREE

DOCTOR FORMULATED.
FDA DISCLAIMER: These statements have not been evaluated by the Food and Drug Administration. The product is not intended to diagnose, treat, or prevent any disease.